Skip to Content
Welcome to

The Allen Hotel NYC

A sparkling newcomer to the Lower East Side, the Allen Hotel NYC features 41 modern guest rooms and spacious suites pairing timeless elegance with contemporary amenities and services. Guests enjoy an unbeatable central location and a spacious conference room perfect for groups and events. 
Book Direct Benefits
Free Wi-Fi
Best Rate Guarantee
Four Features You'll Love
Prime location in Manhattan's Lower East Side
Four Features You'll Love
Walk to New York's top attractions
Four Features You'll Love
Elegant guest rooms with private balconies
Four Features You'll Love
Upgraded amenities throughout the hotel
"I'd stay here again... and again, and again!"

The Allen Hotel is a phenomenal find! It is perfectly located in Manhattan, just a 2 minute walk to the subway. The room was amazing, the bed was comfortable and well-appointed, and the bathroom was impeccable. The staff was enjoyable and our room had a balcony patio overlooking the Manhattan skyline!

- Scott S

"Another fantastic stay"

This is my second time at The Allen Hotel and it was a wonderful experience. I LOVE having a room with a balcony overlooking the city at such a reasonable rate! The staff was so helpful and my room was immaculate. Thank you for the hospitality, see you next time!

- Lisa M

"Great hotel on the Lower East Side"

Location is perfect, along a pleasant promenade just two blocks from Delancey Street. Clean hotel with modern style. Comfortable king-size bed. Housekeeping was always eager to help. The balcony is a wonderful addition. Street noise is not bad and there are lots of cool shops and eateries around.

- Houston T

"Love The Allen Hotel"

The Allen hotel checked all the boxes for me on my business trip. Cool location with great restaurants and shops nearby. Spotless rooms and a great staff, Carmen was the best and literally greeted me every day with a big smile and positive attitude. I will definitely be returning!

- Taylor R

"Fantastic first stay"

What a wonderful gem of a hotel. The suite was beautiful, the terrace lovely, and the room impeccably clean and well maintained. I arrived very early and the manager did his best to have my room prepared for early check-in. I was sad that I was only staying one night, but I will be back. Thank you!

- Patricia G Groups
Meetings & Events
Get together at The Allen Hotel and enjoy 1,000 square feet of meeting space with two 42" TVs, a projector and speakers, plus food and beverage service – perfect for business groups or special events up to 50 guests.
Fitness Center
Sauna & Steam Room
Take a break between important business meetings and big-city adventures to unwind at our private fitness center, complete with free weights, elliptical machines, a relaxing steam room, and a cedar wood sauna.
Map
Hotel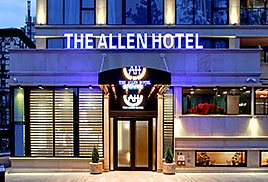 Map
The Lower East Side
0.5 mi. | 9 min walk
Map
SoHo
0.9 mi. | 18 min walk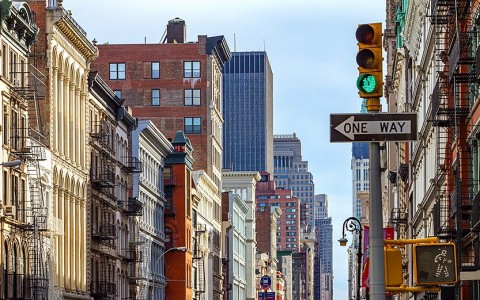 Map
Little Italy
0.4 mi. | 9 min walk
Map
Chinatown
0.5 mi. | 11 min walk