Welcome to

The Allen Hotel

A sparkling newcomer to the Lower East Side, the Allen Hotel features 41 modern guest rooms and spacious suites pairing timeless elegance with contemporary amenities and services. Guests enjoy an unbeatable central location, charming cafe, and a spacious conference room perfect for groups and events.
Book Direct Benefits
Free Wi-Fi
Best Rate Guarantee
Welcome Gift
Five Features You'll Love
1 | A prime location in Manhattan's Lower East Side
Five Features You'll Love
2 | Easy walking distance to New York's top attractions
Five Features You'll Love
3 | Spacious rooms, modern amenities, and elegant decor
Five Features You'll Love
4 | High-end furnishings and hand selected fixtures
"Fantastic for the price!"

This hotel is brand spankin' new. I stayed for 5 days and the staff couldn't have been any more accommodating. The rooms are compact - but that's not surprising for a NYC hotel and considering the price, they are still more roomy than some others in the category. The location is just a bit lower than the LES on the edge of Chinatown, but super close to transportation and food!

- Dennis S.

"Amazing"

This place is so great. I absolutely love this hotel. It's immaculate, the staff is very friendly and attentive. What a true gem this brand new hotel is. I've stayed in Manhattan many times and this, by far, is a #1 because of the cleanliness, niceness and atmosphere. It's in a great location and we had a balcony. How often do you find an adorable hotel, that's really affordable with a balcony?

- Stacey C.

"Nice and helpful staff"

Staff are super nice, respectful, and helpful. There was a mix up with our booking, and when we arrived we did not have a room booked anymore... They upgraded us to their best suite on the top floor, and charged us the same price we would have paid for the room we had initially booked. Excellent customer service.

- Nouf A. The Allen Cafe
Sips & Snacks
With the casual convenience of breakfast downstairs, The Allen Cafe offers a wide variety of coffees, teas, and breakfast treats. From bagels and croissants to eggs and fresh hot waffles, we have the fuel to start your day right.
OPEN DAILY | 7 AM - 10 AM
View Menu
Groups
Meetings & Events
Get together at The Allen Hotel and enjoy 1,000 square feet of meeting space with two 42" TVs, a projector and speakers, plus food and beverage service – perfect for business groups or special events up to 50 guests.
For more info, email info@theallenhotel.com.
View Floorplans
Map
Hotel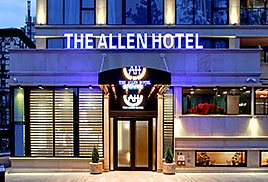 Map
The Lower East Side
0.5 mi. | 9 min walk
Map
SoHo
0.9 mi. | 18 min walk
Map
Little Italy
0.4 mi. | 9 min walk
Map
Chinatown
0.5 mi. | 11 min walk